Reinventing the Wheel
"The music of the wheel will be as balm to your soul. I believe that the yarn we spin is capable of mending the broken warp and woof of our life." Mahatma Gandhi (1949)
We have unfinished business.
Despite the importance of craft in the ongoing human story, it is often demeaned as "backward". Most other creative dimensions of life such as fine arts and music are recognised in their own disciplines of knowledge. While much has been written about craft, scholars are often isolated and located in other disciplines. Meanwhile, a generation of craft postgraduates has gone back to the studio or workshop, missing the academic culture. We can be stronger together.
What's to be done? There is much work needed in putting craft on the agenda in broader discussions such as environment and international relations. Fortunately, there are technologies that now allow collaboration across a dispersed network.
To this end, the Wheel, as a "knowledge house" for craft, is currently being developed. This will be a place to build a deep understanding of the role that craft plays in the world. You can leave your email address here to be updated.
In preparation, a series of talks on the third Wednesday of each month will explore different spokes of the wheel. These provide learnings that will be important in our journey forward. You are welcome to join them.
---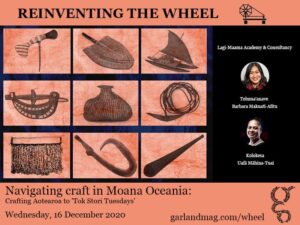 Navigating craft in Moana Oceania: Crafting Aotearoa to Tok Stori Tuesdays
-
The third talk in Reinventing the Wheel takes us to Moana Oceania, where Lagi-Maama will help us appreciate the customary context for craft.
The Crafts and Rituals of Scent in Arabia ✿ 18 November
-
Laila Al-Hamad opens a discussion about the role of scent in our cultures. She describes the objects and rituals that are used to made smell part of Arab life.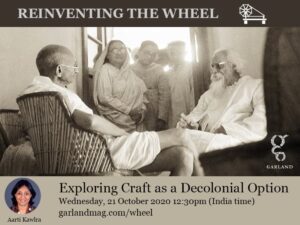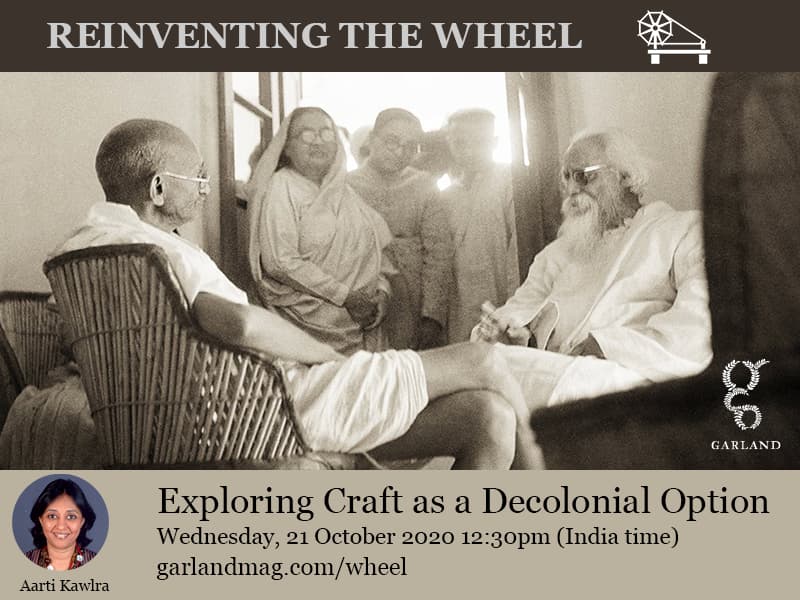 Aarti Kawlra: Exploring Craft as a Decolonial Option – 21 October
-
You are invited to the first in a series Reinventing the Wheel which gathers craft learning from the wider world.